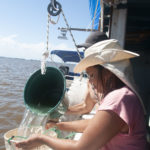 The floodplain of the Amazon River — where flora, fauna, and human communities have adapted to an annual 7 m flood wave — supports a wealth of biodiversity and extremely productive fisheries. Recent research has demonstrated that these resources are under threat from climate change (Fabré et al. 2017; Barichivich et al. 2018) and deforestation driven by cattle ranching and agriculture (Renó et al. 2016).
Our project « Sustaining Amazon floodplain Biodiversity and fishERiES under climate change » (SABERES) combines remote sensing, hydrologic modeling, fisheries and habitat modeling, and participatory work with local riverine communities to develop policies and strategies to conserve Amazonian biodiversity and fisheries in the face of climate change. We focus on the lower Amazon floodplain in the state of Pará, Brazil, where riverine communities and governmental agencies are currently developing improved fisheries legislation. The productivity of these fisheries depends on the integrity of, and biodiversity associated with, floodplain forests, savannas, and lakes. Preserving biodiversity and fisheries under climate change can only be accomplished in a common framework, with strategies developed in partnership with local communities.
This project addresses several aspects of the impacts of climate change on biodiversity. We will predict the effects of climate-driven changes in inundation regimes on fish, forests, and phytoplankton, and will assess fisheries co-management, floodplain reforestation, and other strategies for mitigation/adaptation to climate change.  We will explore a range of future scenarios using agent-based modeling, and predict effects of climate change on ecosystem services including fisheries productivity and water quality.
Our interdisciplinary research program incorporates innovative remote sensing products and methods, and physically-based models for hydrology, fish ecology, social and political sciences. It is organized into six interlinked scientific work packages: